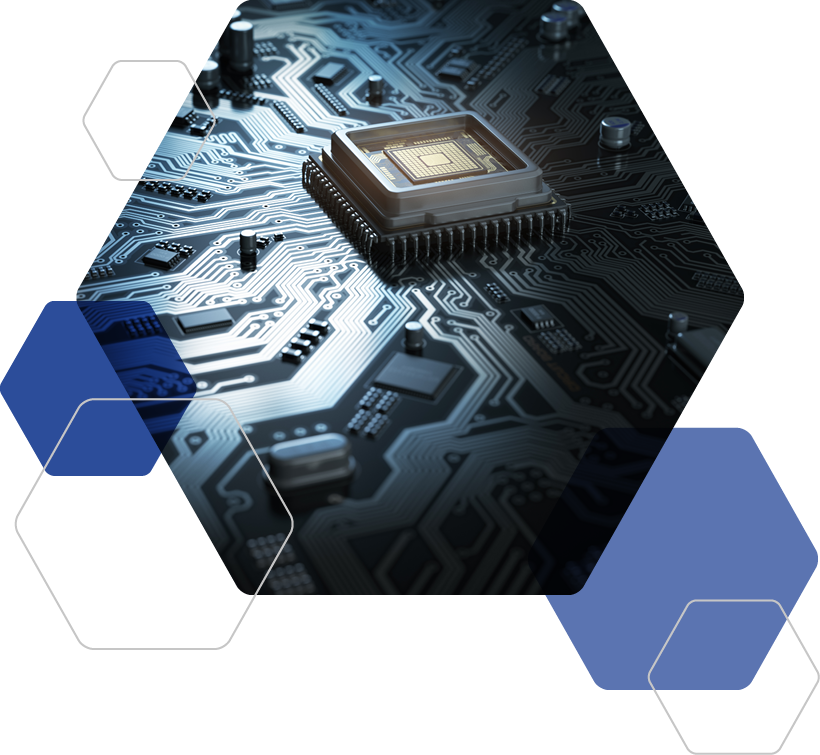 Solutions for semiconductor testing
Electronic devices are becoming ever more powerful and their connectivity is also continuing to get more complex. As a result, the use of semiconductors is surging in a wide range of industrial sectors and will continue to do so in the future. This trend is particularly noticeable in areas such as the automotive or telecommunications sectors.
Accordingly, the complexity of testing in the semiconductor industry is also increasing, regardless of the industrial sectors for which ICs are manufactured.
NOFFZ Technologies designs the right
Semiconductor test solution for your industry
Solutions for semiconductor testing
To successfully master the latest challenges in testing RF and mixed-signal ICs or memories, we offer a wide range of services for semiconductor manufacturers, from chip characterization and conformance testing to wafer-level testing and final testing after packaging.
We support you and your projects from the verification of the first samples ("First Silicon"), up to complete ATE test solutions in production.
Your individual test requirements are our guideline – our scalable test concepts are your solution. 
Development of test frameworks & software tools
Our specific test frameworks are the deciding factor for your respective test requirements. We develop intelligent framework and software tools for characterization, validation, and production.
Our architectures are based on state-of-the-art technologies and object-oriented concepts. Our advanced UTP software impeccably supports your standardization requirements.
Different software environments, such as Python, C# or NI LabVIEW can also be integrated; in addition, customized software tools can be implemented.
Our frameworks contain essential building blocks, such as
an individual user interface,
management of test execution,
test verdict (based on measurement results),
control of peripheral devices such as temperature devices and probes,
data logging, analysis and reporting
Of course, we will support you in the use of your specific framework with periodic software updates, new features, and active maintenance of your system.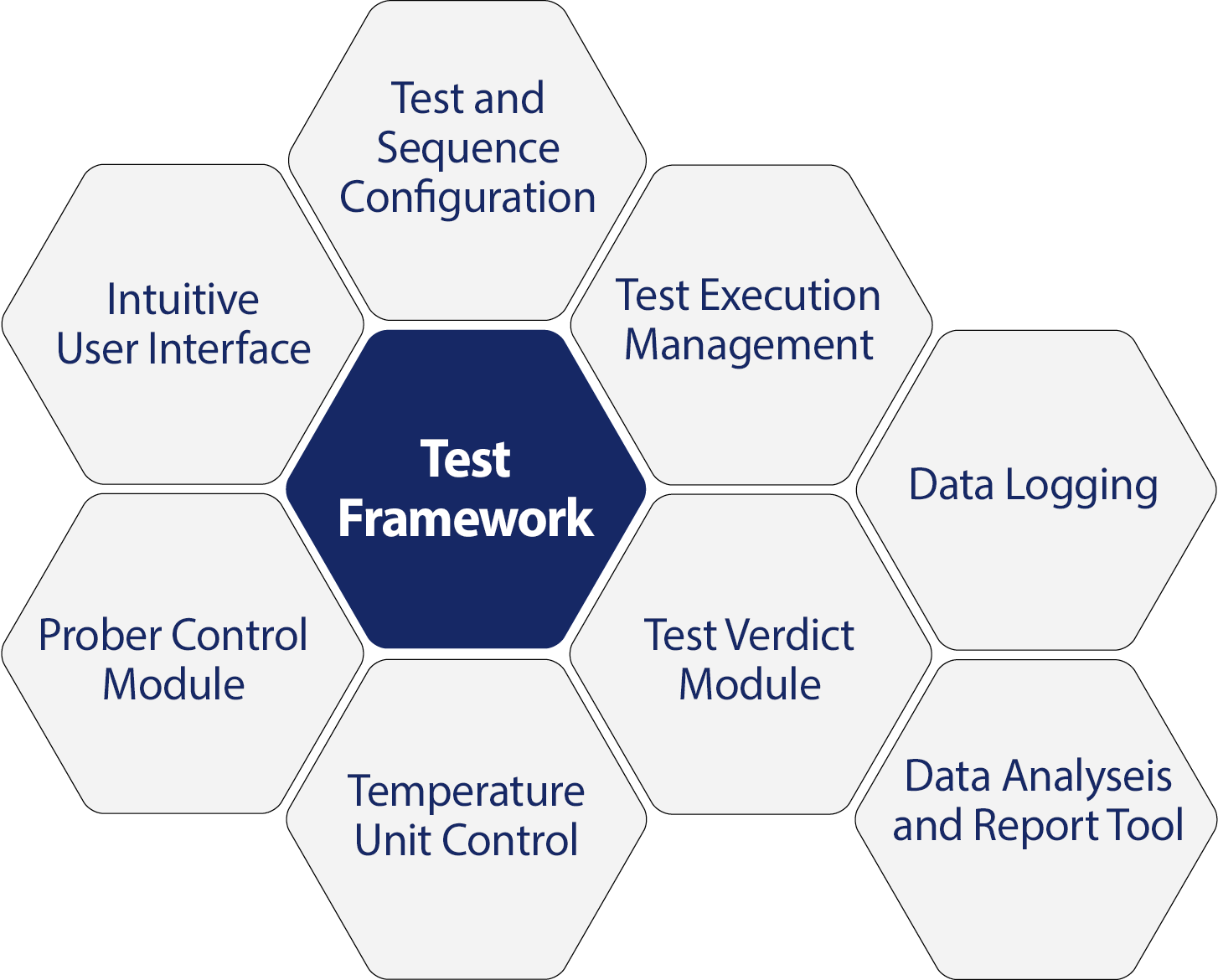 Why does it make sense to standardize on one test framework?
It is quite common that different test teams are active at several company locations, using different hardware platforms from different manufacturers.
In this case, standardization, in addition to ease of use, brings advantages such as lower test development costs, higher reusability with higher quality standards, and thus greater reliability.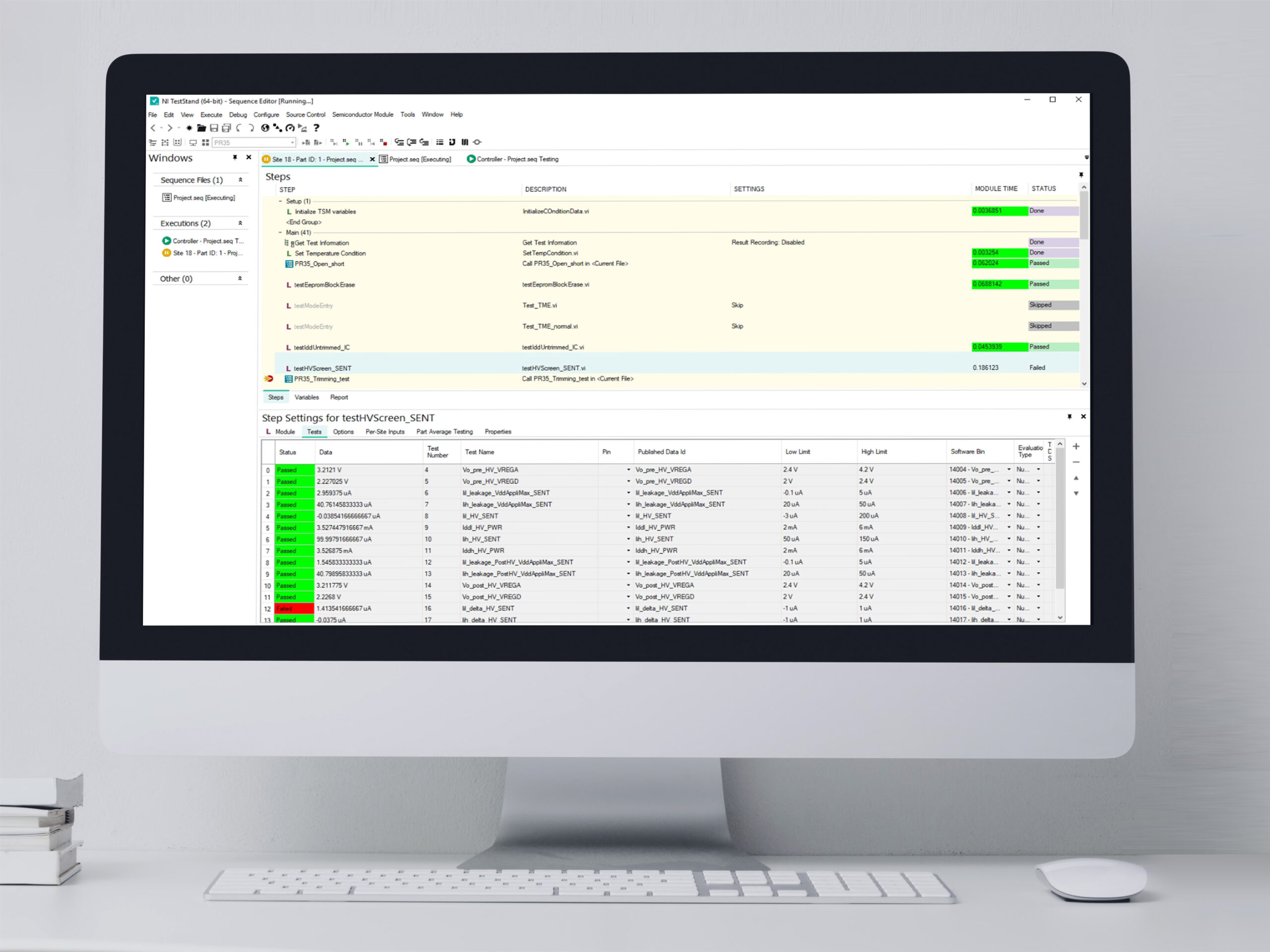 Development of test code modules
We develop versatile and extensive software applications, where your respective test product is always the focus of our programming approach. Our experts primarily use the following software environments:
NI LabVIEW, NI TestStand incl. Semiconductor Test Module, Python, C++, C# and .NET.
Of course, your product variants are covered by a professional variant management system. The test results are summarized in reports and integrated into your database, if required.
Our applications are modular and therefore scalable at any time. This means that you are ready for future requirements right from the start. Depending on your internal capacities, we support you on a project basis or long-term. We will also gladly assist you directly on site.
Our expertise in semiconductor-specific measurement technology:
Source Measure Units
High-speed digital I/O modules
Digital pattern generators
RF and mmWave generators
FPGA-based oscilloscopes
Arbitrary signal generators
NI-STS platform
Test software for typical components such as 5G beamformers, RF power amplifiers, and RF front-end modules for 4G and 5G.
To develop your individual test solution, we first define your test strategy together. Next, we develop a test code for your semiconductor characterization, validation, or production.
Our portfolio also includes conformance testing, where we verify that your product meets specified industry standards. This includes the development of libraries for electrical functional tests (e.g. LV124) as well as communication protocols (e.g. LIN, SENT, and PSI5) as well as tests under different environmental conditions.
Our experts are also happy to support you in test code optimization, for example to increase reusability, statistically analyze processes or reduce test times. 
Customized and individual 
Hardware development & production
We also design, develop, and manufacture the appropriate project-specific hardware for you. This includes customer-specific printed circuit boards (PCBs), signal conditioning, or measuring devices.
Furthermore, we offer individual supplements such as load boards (with up to 25 layers), probe cards, and interface boards to complement COTS tester platforms including NI STS.
We also design and manufacture various RF multiplexing solutions and RF chambers for OTA measurements. 
Turnkey system integration for wafer, IC, and module tests
We also offer the perfect solution for turnkey systems, such as the NI STS including software and integration of handler and prober. The UTP platform covers typical system-level test requirements: Optimized for high throughput, with RF and FPGA technology, such as our fully automated calibration, flash, and packaging facilities for LTE NAD modules. All service and support efforts are provided by local engineers with debugging and troubleshooting experience, or remotely upon request.