Universal Wireless Tester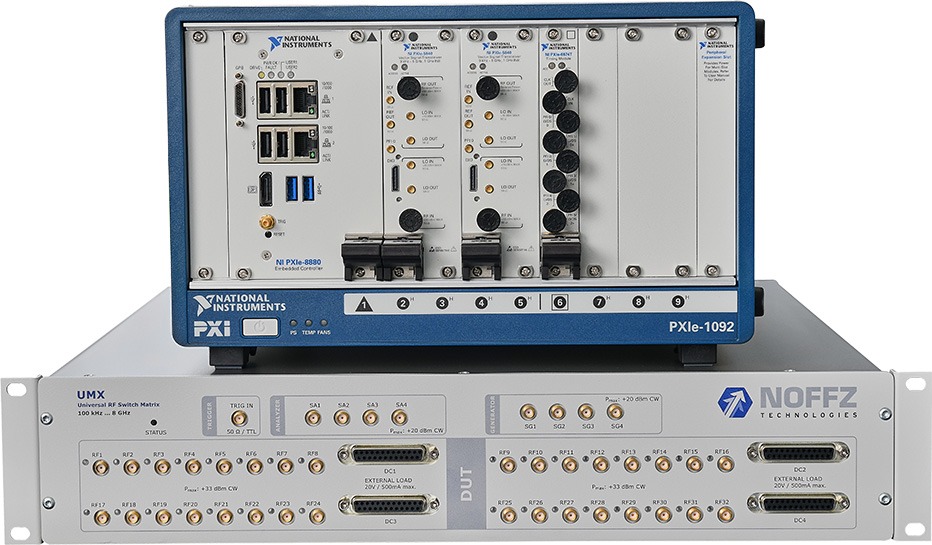 TEST MULTIPLE RF CHANNELS AND STANDARDS IN PARALLEL
Universal Wireless Tester
Unique non-signaling RF test platform for validation and production
Wireless communication standards are increasingly integrated into vehicles as well as smart home and Internet-of-Things applications. They form the basis for connected services, advanced HMIs, and autonomous driving. The combination of constantly evolving standards and the integration of multiple wireless technologies with many RF channels into new product designs means that measurement speed and quality are becoming a priority.
These developments require complex and parallel test solutions with high channel counts to meet throughput and yield targets.
NOFFZ and NI have jointly developed the Universal Wireless Tester (UWT) to address these test challenges. The UWT provides a suitable solution to meet the high RF channel count requirements while remaining very flexible and cost-effective.
Designed to be the most flexible platform for RF testing of modern wireless standards
The Universal Wireless Tester provides non-signaling verification of modern wireless and connectivity standards, e.g. C-V2X, 5G, 802.11 ax, BLE, and UWB.
The UWT reduces the testing duration through parallel testing of multiple DUTs, automatic RF port routing, and automatic resource utilization. For higher throughput, the system can be easily upgraded to up to four transceivers with an additional analyzer and generator. At the same time, downtime for maintenance or calibration is minimized through automatic reassignment between test adapters and transceivers.
This unique technology leads to a reduction in overall test costs by reducing test times. It also enables future-proof system scalability for 6 GHz Wi-Fi, 10 GHz UWB, or 5G NR in the millimeter wave range.
THIS IS WHAT DISTINGUISHES OUR PRODUCT
Features & Specifications
Number of transceivers can be flexibly adjusted to meet project requirements
High number of RF channels
Cooperative transceiver mode
The universal RF switch matrix: NOFFZ UMX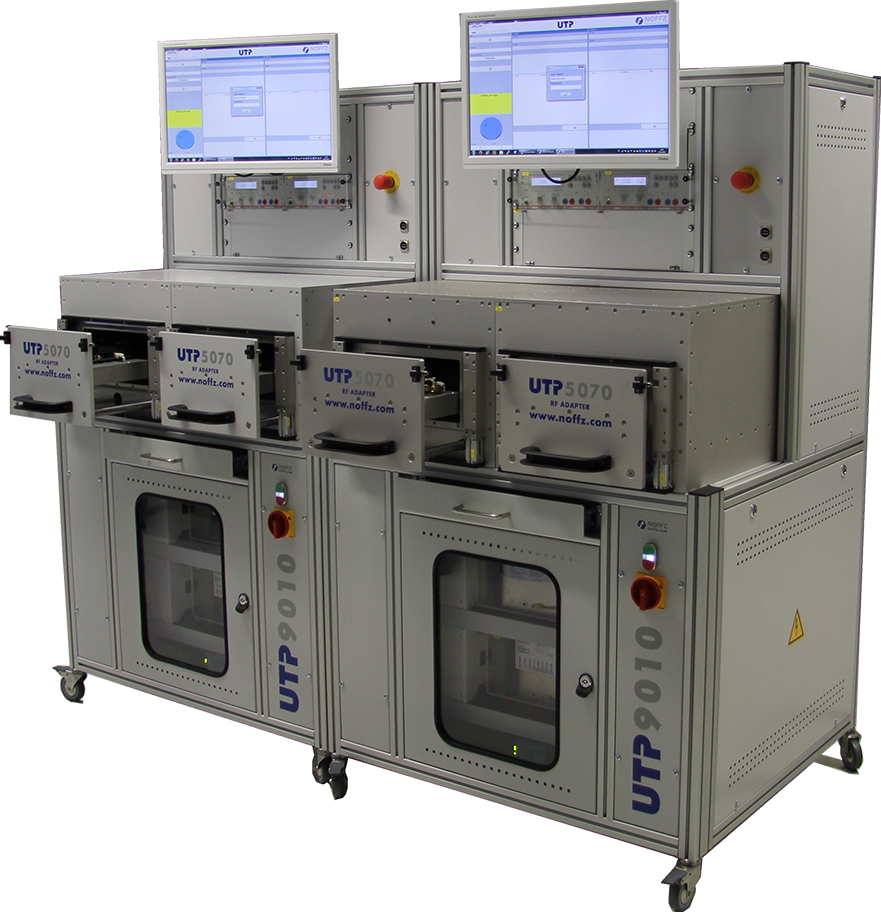 Serial setup of test system UTP 9010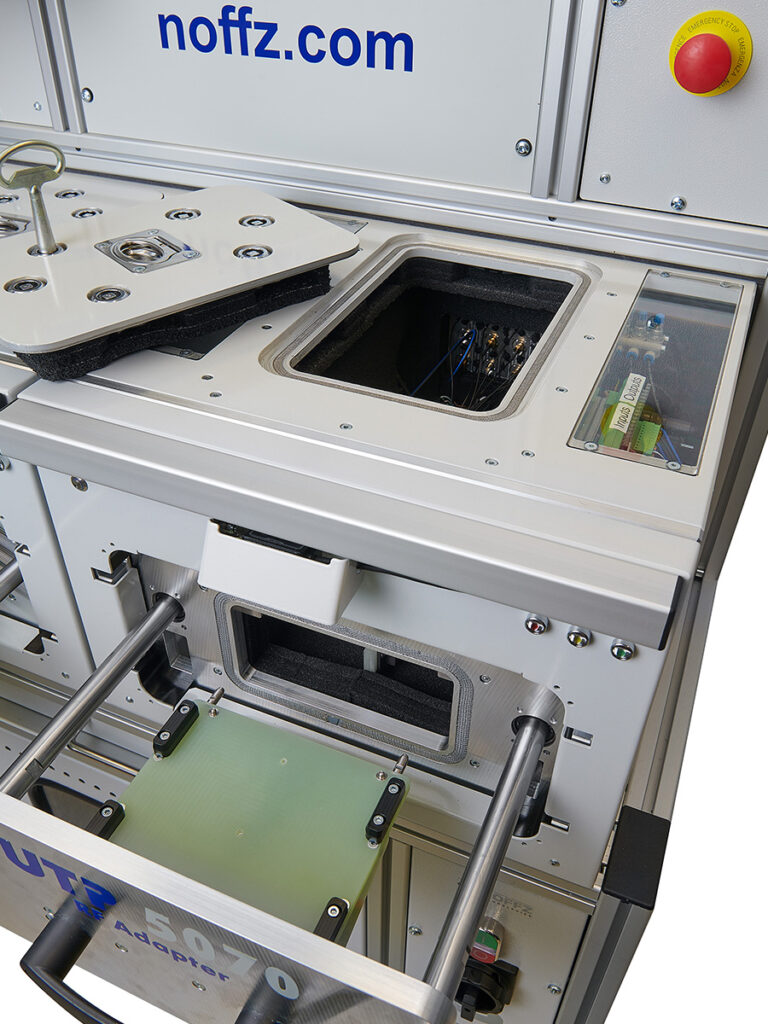 Detail view of RF chamber UTP 5070
for shielded measurements
The concept is made possible by the Universal Switch Matrix (UMX), an 8×32 RF switch matrix with integrated DC load emulation and voltage/current measurement block. It ensures the collective use of measurement devices and the planning of individual measurement tasks. The switch matrix connects the active antennas at all times. It can also apply loads or simulate faults. It is specifically designed for high numbers of antennas and large quantities. Furthermore, the UMX offers future expansion options and covers modern technologies such as C-V2X, 5G, 802.11ax, BLE, and UWB.

NOFFZ Universal Switch Matrix
with integrated DC frontend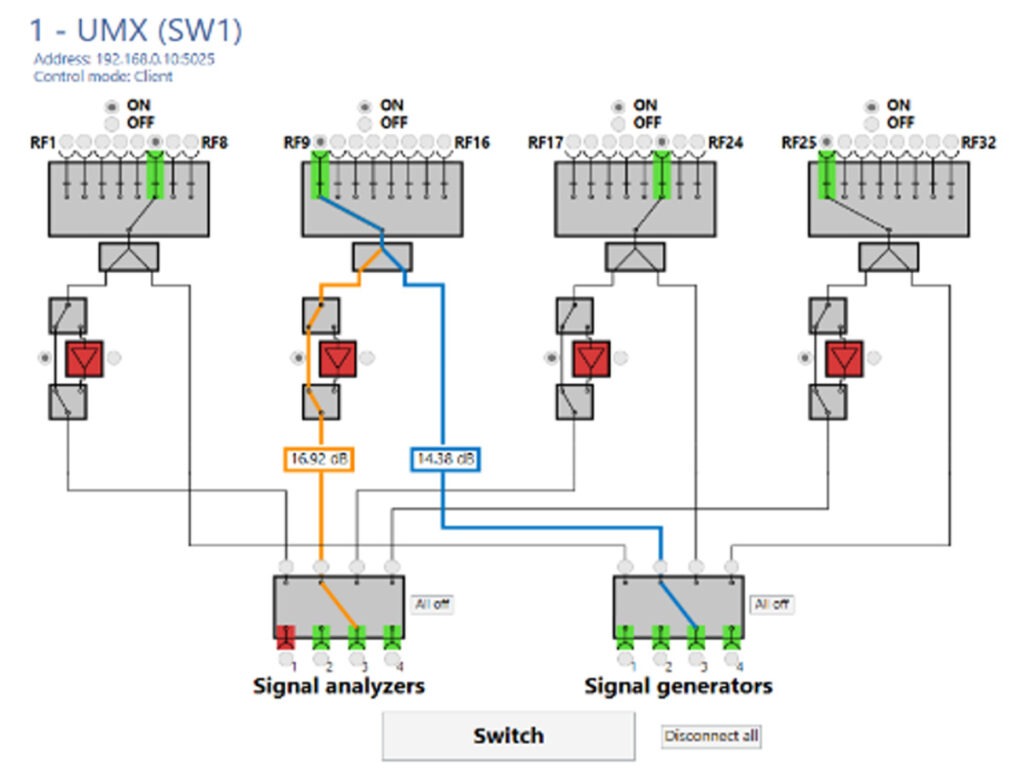 NOFFZ UMX Control Software
for interactive operation
Getting started with the Universal Wireless Tester
Practical implementation of typical RF test cases
The UWT is designed for non-signaling tests in validation and production. The video series demonstrates the unique selling points: 1. Parallel testing of multiple DUTs, 2. Parallel testing of different wireless standards, 3. Adding more transceivers.
Erste Schritte mit dem Universal Wireless Tester
Praktische Umsetzung typischer HF-Testfälle
Das UWT wurde entwickelt für Non-Signaling Tests in der Validierung und Produktion. Die Video-Serie zeigt anschaulich die Alleinstellungsmerkmale: 1. Paralleles Testen mehrerer Prüflinge, 2. Paralleles Testen unterschiedlicher drahtloser Standards, 3. Hinzufügen von weiteren Transceivern.
FÜR IHRE SMARTE PRODUKTION
Automatisierter UTP 6010 für Telematic Control Unit
Robotergesteuerte Be- und Entladung der NOFFZ HF-Kammer
Die Ansteuerung der integrierten HF-Kammer erfolgt in diesem Video automatisiert mit Hilfe eines kollaborierenden Roboterarms. Er übernimmt das Öffnen und Schließen der Schublade sowie das Einlegen und Entnehmen der Telematik-Steuereinheit (Telematic Control Unit). Automotive Geräte müssen verlässlich sein.
Vereinen Sie zur Validierung alle Produkte und
Messinstrumente in nur einem Rack.
Testen Sie Geräte mit hohen Kanalzahlen parallel. Ein ganzes Mobilfunknetz am Arbeitstisch.
Emulieren Sie die zellulare Mobilfunkumgebung, die Sie brauchen.
Testen Sie Ihre drahtlosen Geräte einfacher als je zuvor.
Parallel von 2G bis 5G und ausgiebig im Dauertest. Satellitenbahnen modifizieren. Umgebungen simulieren.
Erzeugen Sie eine Vielzahl realistischer Multiband GNSS-Signale. Definieren Sie dabei Ihre Parameter individuell und testen sie hochgenau. Direkt im Labor und in Echtzeit. Größere Displays und zunehmende Vernetzung.
Verbesserte Technologien geben ein rasantes Tempo vor.
Diese Innovationen erfordern intelligente Testsysteme.
Wir schaffen gezielt Ihre individuelle Lösung.