Radar Test System UTP 5065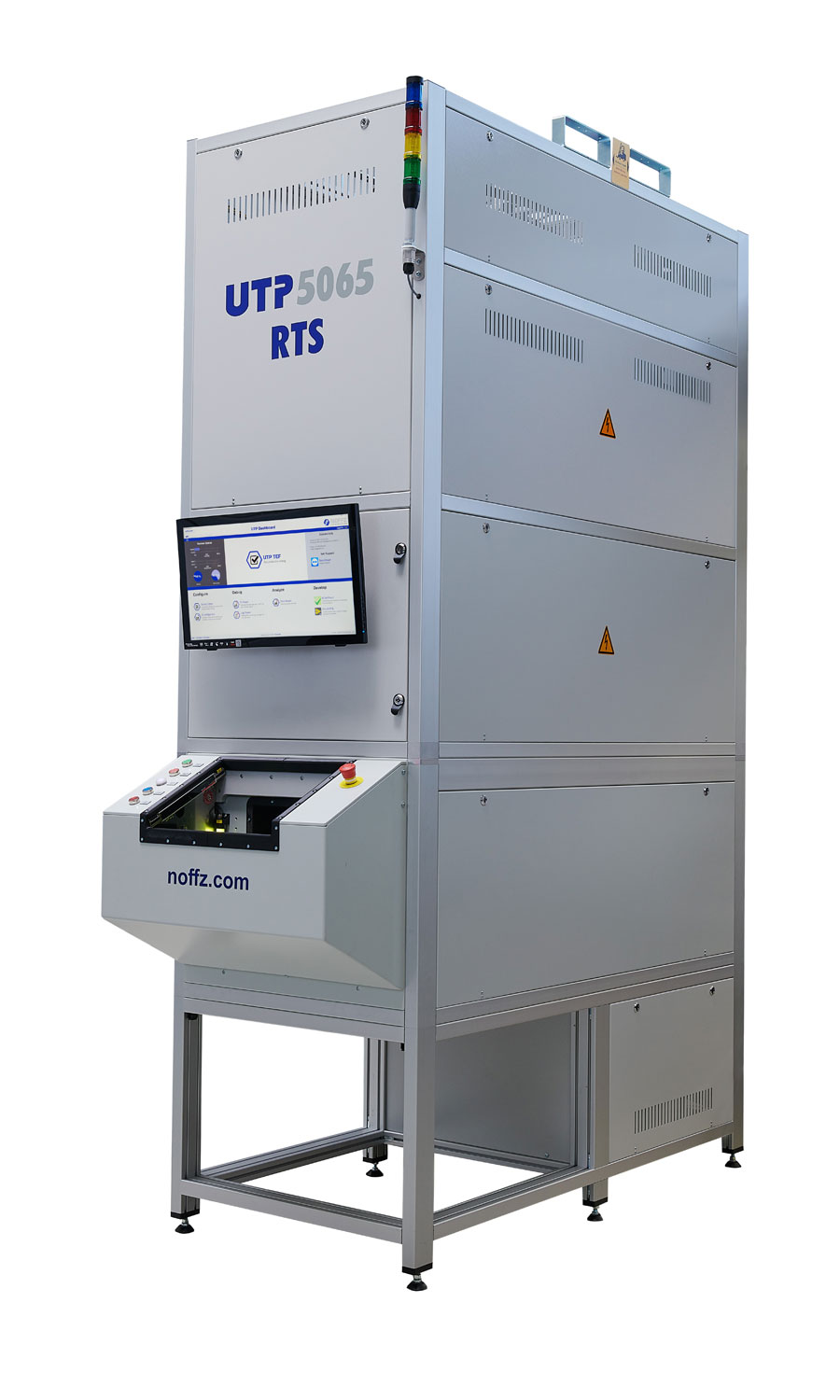 VALIDATION & END-OF-LINE TEST
Radar Test System UTP 5065
Compact testing of radar sensors in the direct far field
In the automobile sector, radar sensors are key elements in implementing autonomous driving. Whether for detecting the vehicle's surroundings or its interior – the need for new radar sensors is constantly growing.
For this reason, large-scale production, complete automation, and short cycle times and space-saving designs are necessary.
Our proven radar test system UTP 5065 is especially designed for state of the art measurements and sensor calibrations. The ultimate low-reflection absorber chamber delivers precise results to that end. This makes the system an efficient modular solution for your validation and end-of-line tests.
HIGH-PRECISION MEASUREMENTS
Traditional measurement chamber
with multiple­ reflections
NOFFZ measurement chamber
with outstanding absorption quality

THIS IS WHAT DISTINGUISHES OUR PRODUCT
Features & Specifications
Fully automatic in-line superstructures
Measurements and calibration

Radar target simulation: Efficient testing of radar sensors in a compact environment with great target distances and various target parameters.
Both the design of the testing system UTP 5065 and the selection of components deliver optimal results for highly precise and cost-efficient tests of radar sensors.
Compact vertical design: 70% less floor space than a horizontal test construction
Outstanding absorption quality of the test chamber
High-precision two-axle movement of the radar sensor around the radiation center (azimuth and elevation)
optionally with goniometer or robot
Integration of the radar target simulation of different manufacturers with corresponding frequency ranges from
Short handling times and optimal loading and unloading of the testing system are ensured through additional robots and pick and place systems
Space-saving vertical series construction
All advantages at a glance
End-of-Line Tester
for automotive radar sensors
Extremely low-reflection absorber chamber
See all the advantages of our testing system at a glance The UTP 5065 offers the necessary flexibility and adjustability for the validation and production test of modern radar sensors.
SIMPLY MAINTAIN AND TROUBLESHOOT
Testing software UTP Suite for the Radar Test System UTP 5065
Screenshot of our testing software UTP Suite for the Radar Test System UTP 5065 One of our core competencies:
the validation of your new products.
Reliably secure the market readiness of your ideas. Ultimately, only one thing counts: The functionality of your product.
Our testing systems deliver precise results.
For certain. For your best quality. We care deeply about the safety of all road users. Our highly sensitive test systems for radar sensors and high-performance computing deliver reliable results. Without exception. The production of the future communicates and processes data. We integrate 4.0 technologies. You master upcoming challenges.
Intuitive and user-friendly – like our applications.
DO YOU HAVE ANY QUESTIONS?
Speak with our experts directly!
Let us know the details of your project. We're curious about your ideas, products, and requirements and would be glad to advise you specifically about your requests.
Together we'll make your project a success!
Let's set up a meeting.
Business Development
Manager
ADAS-RADAR