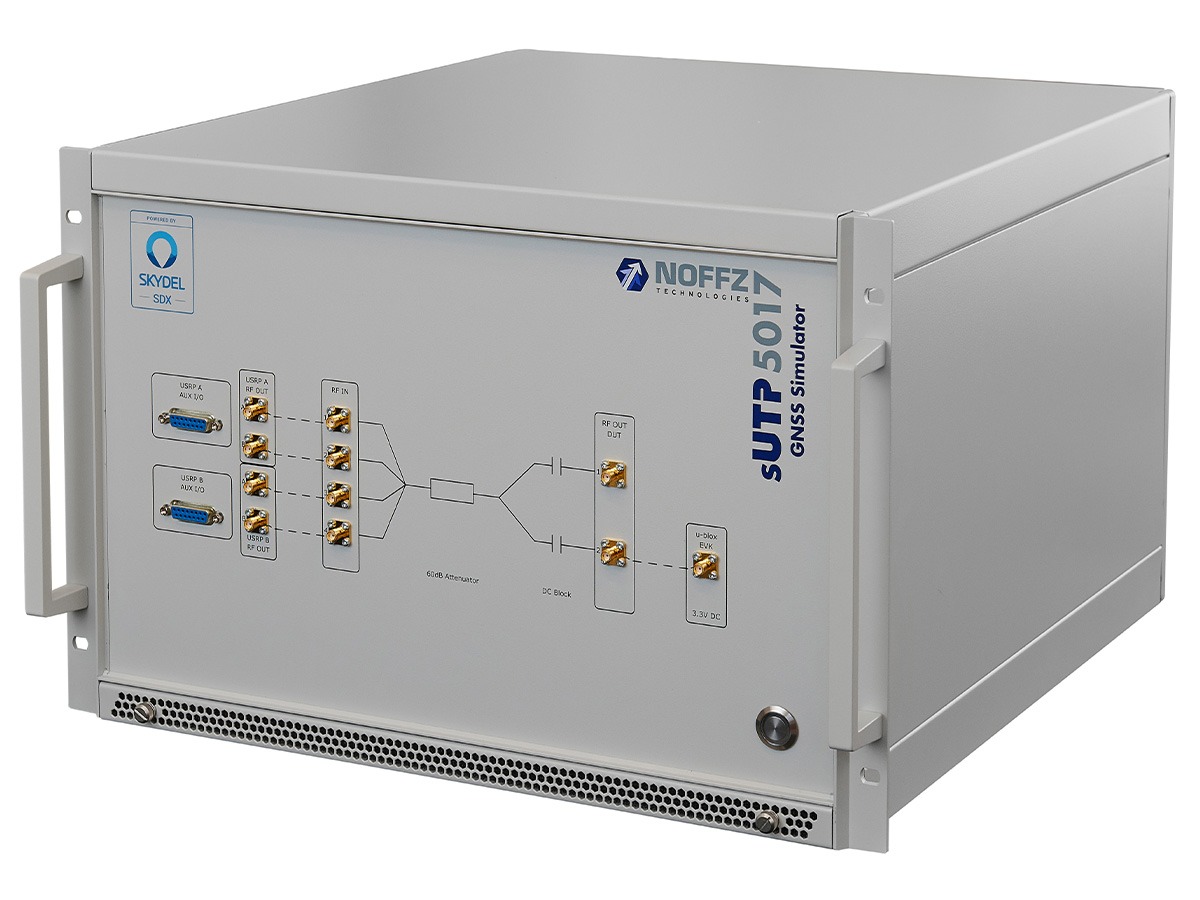 CREATE YOUR OWN SCENARIOS
GNSS signal simulation in real-time
With the increasingly complex RF landscape, expectations for validation and functional testing of GNSS equipment are also rising. A large number of different navigation signals need to be reproduced under conditions that are as realistic as possible. The additional generation and injection of interference into the GNSS signals are supposed to simulate the real environment.
Our sUTP 5017 GNSS simulator can generate individual real-time simulations such as multi-band GNSS signals for GPS, GLONASS, Galileo, and Beidou. Additionally, it can create signals for interference, SBAS, or RTK. Differential GNSS and multi-vehicle simulation, GNSS satellite orbit modification, unlimited additive pseudo-distance ramps, and fixed user-defined positions are also supported.
The sUTP 5017 is a turnkey solution for creating highly complex, elaborate, and repeatable scenarios for your validation and production testing.
THIS IS WHAT DISTINGUISHES OUR PRODUCT
Features & Specifications

Front and rear panel connectors of the GNSS simulator sUTP 5017
FÜR IHRE SMARTE PRODUKTION
Automatisierter UTP 6010 für Telematic Control Unit
Robotergesteuerte Be- und Entladung der NOFFZ HF-Kammer
Die Ansteuerung der integrierten HF-Kammer erfolgt in diesem Video automatisiert mit Hilfe eines kollaborierenden Roboterarms. Er übernimmt das Öffnen und Schließen der Schublade sowie das Einlegen und Entnehmen der Telematik-Steuereinheit (Telematic Control Unit). Automotive devices must be reliable.
Combine all products and
measuring instruments in just one rack for validation.
Test devices with high channel counts in parallel. An entire cellular network at the bench.
Emulate the cellular wireless environment you need.
Test your wireless devices easier than ever before.
Parallel from 2G to 5G and extensively endurance tested. Test wireless communication devices efficiently.
Designed for high volume parallel testing.
Multiple wireless standards combined in one system.
Use up to 64 ports simultaneously. Larger displays and increasing connectivity.
Improved technologies are setting a rapid pace.
These innovations require intelligent test systems.
We create your individual solution with high precision.