Universal Tester Platform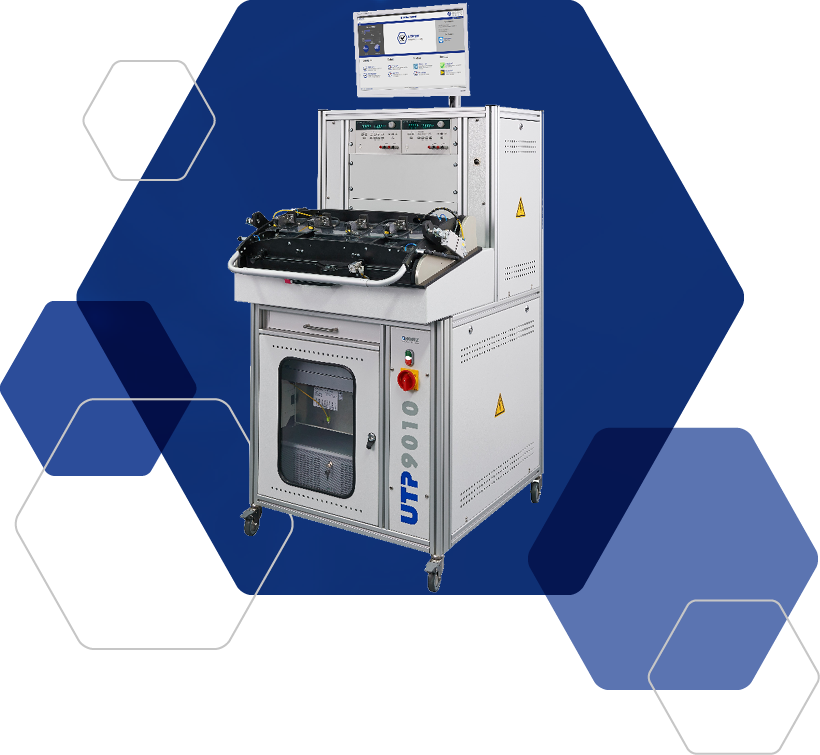 MODULAR, SCALABLE, AND YET CUSTOMIZABLE
UTP – Universal Tester Platform
for all industries
The foundation of our intelligent tester solutions
Your individual products from various industrial sectors require unique and special testing and automation solutions. That's why our experts develop a custom-fit test concept specifically for your particular product. The focus is clearly on high quality, reliable functionality, and a long service life of your products. Our flexible test and automation solutions are based on our own test platform:
UTP –
Universal Tester Platform.
This modular system offers a high degree of standardization but is still highly dynamic. This is made possible by exchangeable adapters to match your DUT, customizable measurement hardware, as well as the comprehensive, flexible
UTP software framework
. From LF to HF, our test systems cover the entire range of measurement technology, including high-voltage applications or systems with high-speed interfaces. The application areas of our automated test solutions are extremely diverse: They can be used as a test system for development and validation, as an end-of-line production tester or as a mobile test station.
No matter for which manufacturing step you need support:
Among other things, we design complete durable systems, individual testers, components, or even complete automation solutions for you. Our scalable UTP platform grows with your requirements. Increase your production volume!
The Right Platform For Your Needs
Scalability For Volume Scenario
The heart of our test systems is our software UTP Suite: The expandable software framework.
We put together what you need for your particular test specification from a variety of hardware abstractions and application tools. If you need additional test scenarios or new functions, our software experts will develop the right tool for you.
Based on globally available development environments, such as NI TestStand, NI LabVIEW, Python, C++ and .NET, a variety of program codes can be integrated, making it possible to realize various test scenarios on our UTP platform.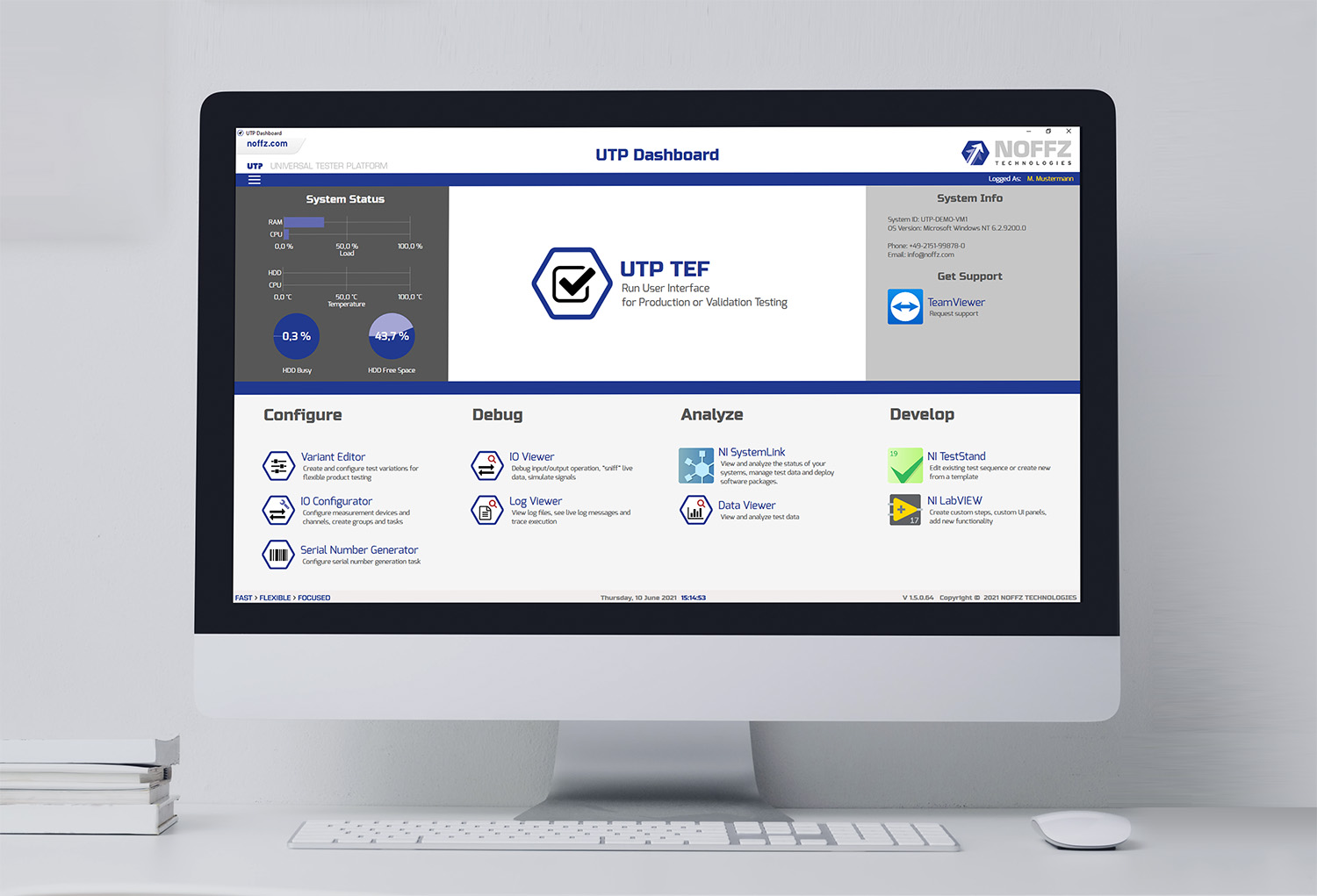 Our hardware is also customizable and can be adapted to your specific customer requirements at any time.
Each test system has an integrated main switch unit, keyboard drawer, and monitor. Depending on the size of the rack, twelve or more height units are available for insertion of various measuring instruments and generators as well as loads. This allows novel and combined test sequences with very large measurement ranges from µV to kV or Hz to GHz. With the appropriate instrument selection, a wide variety of signal shapes, coding, modulations, and protocols can be implemented.
Contact with your product is established via an individual test adapter. Depending on your requirements, the system can be used with a connection to automation or in-line systems. Additionally, the combination of modern IPCs with additional industry standards such as PXI and real-time enables parallel tests and thus reduces test times.
As unique as your product
A selection of our successful projects
Excerpt from our diverse portfolio of test and automation systems
In more than 30 years of our company's history, we have developed and manufactured countless test systems and equipment for a wide variety of products. It is impossible to completely show the wide range of our systems. Therefore, we are just showing you a small selection of different test systems from the categories Development & Validation, Run-In & Screening, Board-Level, and End-of-Line. We will gladly provide you with more information about our solutions and the various options in a personal conversation. Simply get in touch with us.